Saigon, renamed to Ho Chi Minh City by the communist North after they won the Vietnam War, is a city of anomalies. Beautiful French buildings are interspersed with communist concrete. Here's Reunification hall, which used to be the palace of the President of the south part of Vietnam (before the communists took it back). The glorious 60's live again…
Amazing high-class eateries (like classy French patisseries) share space with sidewalk restaurants where patrons sit on plastic footstools. And there's this… the rich Saigon Zoo, an oasis of calm compared to the bustle and buzz of motorbike traffic just outside its gates. (Admission: only 8000 dong, or about 40 US cents).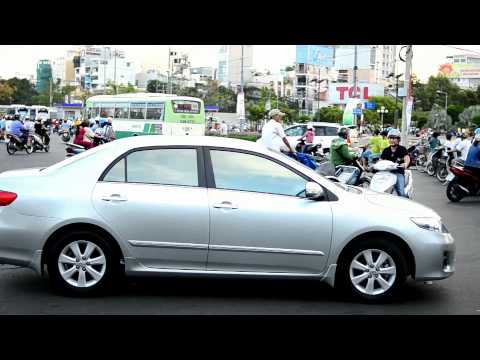 Granted, the zoo is not as nice as others I've seen in Asia (Taipei for example). It also has its contradictions: some of the pens are beautiful and spacious, while others (like the elephant pen) are pretty depressing. Don't let your kids wander alone in the reptile area, or they'll happen upon dead rabbits floating in the pools near the bored (and over-full) pythons.
They've taken the odd step of putting glass in front of many of the cages instead of wire: ostensibly so you can see the animals with less obstruction. But it's sunny when you go to the zoo, so between the reflections and the dirty glass, you can barely see some of the animals (much less take photos of them). At least in a few cases where the reflections aren't bad you can get amazing photos, like this white tiger, shot from less than a meter away:
Even though I wasn't in Saigon long, I got a good feel for what it must have been like in the glory days of old. It makes me wonder what things would be like there if south Vietnam had remained independent from communism. Government styles aside, it's a beautiful place with a rich culture and heritage that definitely warrants a visit!
Posted 10 years, 4 months ago at 7:52 pm. 2 comments