Nguyễn Phúc Ánh took control of Vietnam in 1802 and named himself Emperor. Of course, like every great man with great ambitions and hundreds of concubines, he needed a palace in his capital city! Within the Imperial City was the Purple Forbidden City, where only the Emperor's family was allowed.
Unfortunately it was mostly destroyed during the American bombing that followed the Communists' takeover of Hue in 1968. What can you do?
Here's a short video showing a few areas of the Imperial City. Gardens with locusts/loud insects, koi ponds with hungry fish, restored (and some not-yet-restored) buildings. Oh, and I threw in a night timelapse of Hue from the top of the Romantic Hotel – you can see the city lights coming on as the clouds tower high.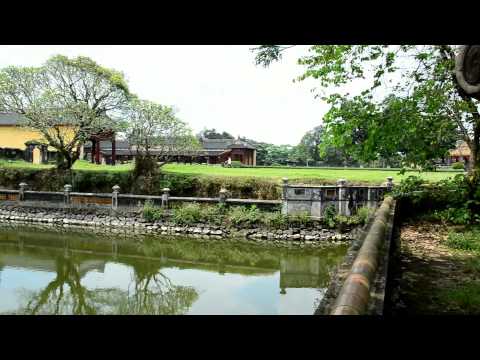 The imposing Citadel guarding one entrance to the Imperial City:
The walls themselves are guarded by a dragon. Vietnamese do love their dragons, I'd say more than any other Asian culture I've visited!
I'll leave you with one final (gold plated?) dragon guarding what look to be some Imperial living areas. Don't mess with the Emperor!
Posted 10 years, 5 months ago at 5:30 pm. 1 comment