In case you didn't see Part 1 and Part 2, that's because they were published quite a while ago. I've been busy with snowboarding, and decided that this final post & video about a summer hike would anyway fit better once spring arrived.
After crossing the Höllentalferner glacier, we continued climbing up the wall for a long time.
As we neared the top this beautiful view greeted us:
Here's the Eibsee, which we could also see briefly from the train on the way down.
Now, for the final video. High-def views over the Höllental and everything beyond!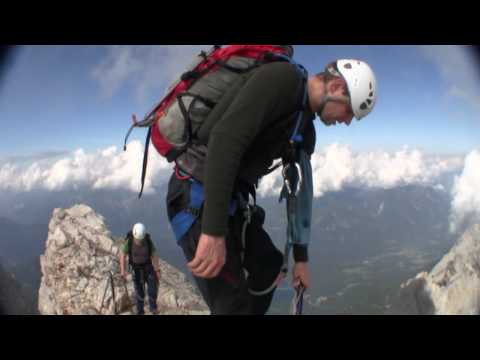 Watch "Climbing Zugspitze: Part 3" in HD on YouTube. A big thanks to Danny Galixy for letting me use some of his fantastic instrumental music for these three videos!
We made one slight error, in that we planned to hike back down. But the ascent went slower than expected with our acrophobic friend, so we took the train down instead. That would have been no problem, except that we'd left some sleeping bags and shoes at the hut, planning to pick them up on the way down.
So… after arriving back to the car in Hammersbach, Scott and I did a lightning-fast hike up the bottom section of the mountain. This time we chose to go via the Höllentalklamm, a gorge with a river, instead of the longer (but fee-free) Stangensteig. When I say lightning-fast, I mean the signpost said 2 1/2 hours, and we did it in 1:15. Our Smartwool shirts were soaked with sweat!
In the end I'm glad we did this bottom section twice, because the Höllentalklamm was gorgeous! You walk up narrow staircases cut into the rock, with splashing waterfalls and scenic views everywhere. I'd recommend if you are hiking up and down, to go up Höllentalklamm and down Stangensteig to take in both scenic routes.
For the full details about the hike, where to stay, where to rent gear, and all that – check out Part 1 of this series. The end of that post has all the hard facts listed in English for your Babelfish-free understanding. Part 2 of the Zugspitze series is all about the via ferrata sections (where you're clipped to the steel cables on the cliffside) and the glacier.
I hope you've enjoyed reading and seeing what Zugspitze is like. Let me know if you have any questions I can answer about the hike or the mountain! I'm happy to help fellow English speakers figure this baby out, because almost all the information out there is in German (grin).
Posted 12 years, 5 months ago at 6:34 pm. 9 comments