I shot footage of some friends skiing and snowboarding at Hintertux in November. Finally, I've found time to stabilize the video files and edit everything. At some points, it looks almost as good as a steadycam would be. A few shots are not so stable; the first few (when it was cloudy/dark) were harder to stabilize. Here it is: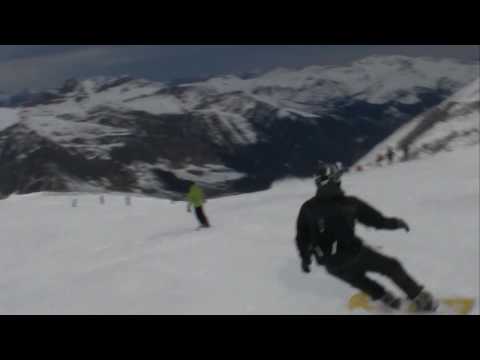 Watch "Testing the Helmetcam" in HD on YouTube.
A few notes for the videographers out there. Optical stabilization sucks in high-G environments. In skydiving, and apparently snowboarding, it can make your footage even more shaky/unviewable than having no stabilization at all. This is due to the mechanically controlled optical element bouncing around in the lens at high-G.
Also, in these vibration-heavy environments you need a fast shutter speed. Otherwise you get strange moments (like you see in my video) where the scene seems to pop in and out of focus: these are heavy camera shocks blurring the motion!
To make the videos stable, I used Virtualdub (open source) with the Deshaker plugin (open source). It was a huge effort to set up and learn, and I'd only recommend it to fellow computer geeks.
For the next shoots, I'm going to use a shutter speed no less than 1/250th. I also have a skydiving ring sight on the helmet now, so I can keep the subject centered in the frame.
Camera: Canon Vixia HF200. Shot in 1920x1080PF. Editing software: Pinnacle Studio 14. It is a royal pain working with full HD files, even on a 3-core 2.something.GHz system. The high-quality deshaking method I've figured out takes 30-45min per minute of video. But the results are pretty!
Posted 12 years, 9 months ago at 12:47 pm. 8 comments