Alright folks, the drunken debauchery of Oktoberfest 2009 in München has come to a close… all that remains now are the memories, photos, and videos.  So, here they are!
If you're looking for tips about visiting Munich for Oktoberfest 2010, check my primer for 2009… not much will change, though I may do another post as 2010 gets closer.
This year, I went with a group of friends on the first day and saw the parade of every tent's beer carts arriving, pulled by BIG horses (and in the case of one tent, by an ox).
Just before the end of the parade, we moved to Poschner's, one of the smaller tents.  You can't stay there all day and party, but you can eat a nice chicken or duck meal and have a couple Maß Wies'nbier.  Look at that crispy chicken skin… mmm!  My mouth is watering for Oktoberfest 2010 already.
Okay, enough of the tame stuff.  Here's what you came to see: the Paulaner Winzerer Fähndl on the last day, rip roaring in the last hours of Oktoberfest 2009!  Not everyone here was drunk… I think there was one guy in the back without a beer.  First, a typical song from the Cologne region, Viva Colonia.  The band's name, De Höhner, means "The Chickens" in the Kölsch dialect of German.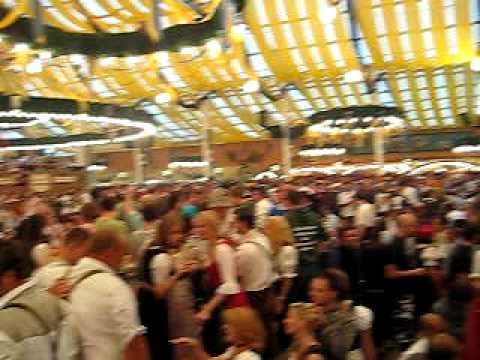 This song, Marmor, Stein und Eisen Bricht, is by Drafi Deutscher.  The chorus, which is repeated a lot, means "Marble, stone, and iron break, but not our love."  This song has been stuck in my head for DAYS.  Please help me!!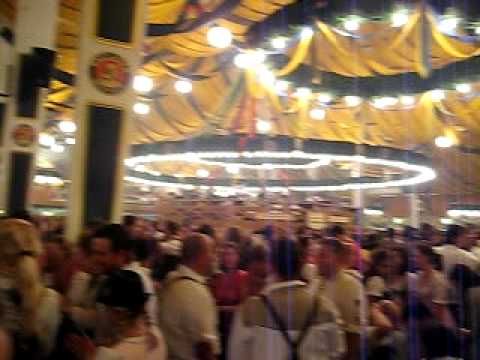 Finally, a more known standard for the native-English-speaking crowd: Seven Nation Army by The White Stripes.  You haven't heard this song until you've heard the deep guitar melody sung by several thousand friendly, drunk revelers!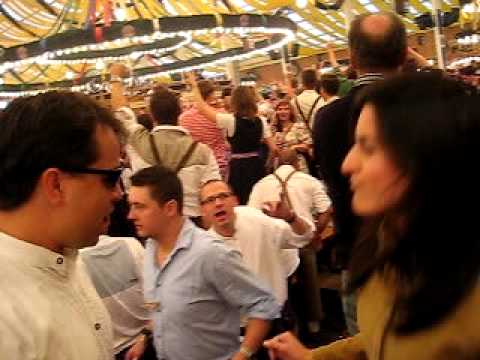 That's all for 2009!  Maybe we'll meet at Oktoberfest 2010.  Buy your tickets and make hotel reservations now!  I'm not kidding…
Posted 12 years, 10 months ago at 9:04 am. 2 comments