The yearly Shuni-e ceremony at Todai-ji temple in Nara, Japan must be one of the ancient pyrotechnic wonders of the world. Reportedly it's been held every year since 752! And this temple complex is a world heritage site. Yes, the temple is made of wood.
According to Wikipedia, "Every night, ten select believers (eleven on March 12) shoulder large pine torches as long as 8 meters and weighing as much as 80 kilograms. Girded with swords and staves, the torch-bearers climb a flight of stairs and run along the balcony of the Nigatsu-dō, showering sparks on the public below. It is thought that these sacred sparks will protect the recipient from evil. The monks also chant, perform ritual circumambulation, and wave swords to ward off evil spirits."
Here's a short video of the ceremony on Mar. 11th, 2012.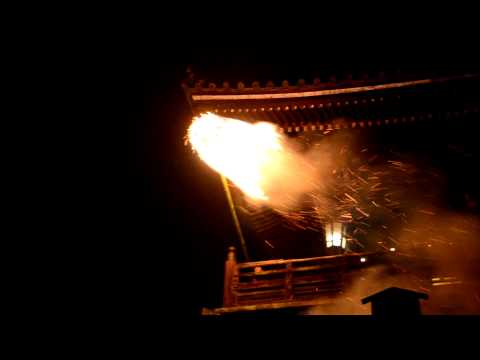 Taking photos of this is hard. You will want a VR- or IS- stabilized lens, a wide aperture (f/2.8 or wider would be nice), and a big D-SLR sensor. Times of 1/15 to 1/3 second at wide aperture can yield nice shots without having to pump the ISO too high.
Here's another shot, with the torch-bearing monk in motion! He is running along the walkway while twirling the torch on his shoulder.
For my final trick: tell me this isn't the most amazing shape you've ever seen made of glowing sparks.
If you ever plan to visit Nara, the first half of March is the time to do it!
The one tip to get a good place in front of the Nigatsu-do balcony: arrive early. If you are late you will be half a kilometer away in a parking lot with a crappy view obstructed by a big tree. (To get a decent photo from there you'll need a tall tripod and a 400mm+ pro lens costing six thousand dollars).
On this (Sunday) night, I arrived at around 5 for the ~7pm ceremony start. I had my choice of viewing position, so got an awesome spot. After a short thunderstorm (which thankfully cleared) and a nice hot coffee from a vending machine, this amazing ceremony was the reward!