I made time to test out the Canon Vixia HF200 helmet camera sooner than expected, after a few requests from friends.  Here's a sample video of me biking in Munich, sped up to 2.0x.  One drawback of not having a ring sight: I was looking down some of the time, so there's a lot more of the road than the surroundings.  Sorry 'bout that, maybe on the next vid!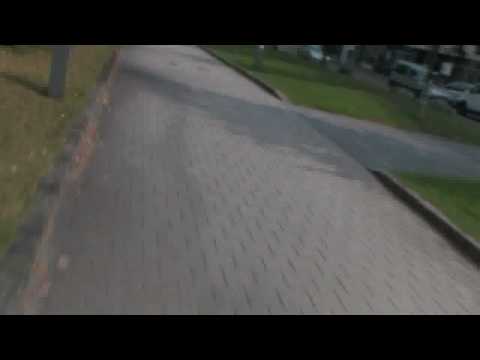 If you go directly to YouTube (my user name one51s, or here http://www.youtube.com/watch?v=jtUW_IK7hSY) you can watch it in full HD!
Subscribe with the orange RSS/Email links in the left sidebar to see future (and better) helmetcam videos as I improve my technique!
Production notes:
The video was produced with CyberLink PowerDirector 8 (trial version), wherein I found some bugs. It likes to crash on rendering: especially with transitions. Hence this video has no transitions :-/ Image stabilization and audio noise reduction work pretty well, though! Between the camera and the software, there's relatively low image shakiness in this video compared to the original.
BTW, PowerDirector 8 is the only cheap (read "consumer") software I've found with subtitle capability. There's one subtitle in the video to test it out, hehe. Now let's see if they fix the transition bugs by the time I might want to buy it.
If you're interested to buy the Canon Vixia HF200, please use the link below and support a freelance author (hehe). Feel free to contact me if you have any questions about the HF200. It's an upgrade of the old HF100 and brother to the HF20 (which has built-in flash memory at a steep add-on price). Avoid Hard Disk based recorders for sports, where shocks may stop the disk drive.
Tags: Canon Vixia, Helmet Cam, Video