On January 6th, Germans celebrated "Heilige Drei Könige" – Epiphany. I had an epiphany of my own when I visited the racetrack in the town of Steingaden, where crazy people race around an ice-covered track on motorcycles with 1″ spikes on their wheels. Here's what I saw at the 12th ADAC Eisspeedway races!
Each race was under two minutes, only a few laps. Here's a YouTube video I took of one race: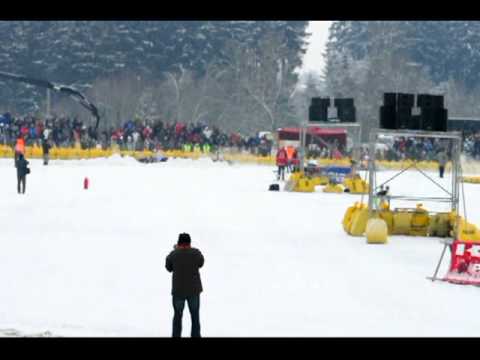 There were 20 races for the day, with an additional 2 tiebreaker races and one special race (I didn't understand what that was for; maybe to celebrate that no one was injured?).
Below, I got a lucky shot of the motorcyclist on the right just as his bike hit the hay-bale wall sideways! Fortunately he was OK and kept riding.
And here's one of the closest finishes of the day. The rider on the left of the photo took it…
…and you can see him celebrating here, and winning the ever-prestigious "Dave's Wheelie of the Day Award!" Just imagine doing a wheelie on a motorcycle. While wearing a leather snowsuit. While it's -5C and snowing outside. While riding on a track made of crushed ice. Then, standing on the seat. With one leg. Yes… that takes cojones.
Finally, my little experiment with background motion blur: I believe this was at 1/100, ISO 1600, pretty high zoom on the Nikon 70-300 VR lens. To do this I just tracked the motorcycle as best I could, keeping it centered in the viewfinder. If only I'd had a press pass to stand in the middle of the oval, hehe. Next time!
Here is a full gallery of the Eisspeedway Rennen photos (even more wheelies!). If you want to experience snowsport craziness on your own, check out some other events on the MSC Steingaden website, listed below. Next up seems to be Skijoring, "where skiers are pulled across the ice/snow by motorized vehicles." I assume that also requires spiked tires, mu-hahaha!
Getting there:
Steingaden can be found here on Google maps. I believe the track is north of the town center, but you'll see signs for sure. It's about 1.5 hours from Munich.
Here is the website of the MotorSportClub Steingaden.
Tags: Eisspeedway, family friendly, Nikon D90