Everyone wants to visit Munich, Germany in the end of September.  The crowds come for Oktoberfest (not Octoberfest or Ocktoberfest; German just uses a "k" instead of a "c" in many words).  The Bavarian city of München is home to the largest beer festival in the world.  In 2009, the Oktoberfest dates are from Sept. 19th until Oct. 4th.  If you are planning Oktoberfest travel for 2009, you'd better already have a hotel, have very deep pockets, or know someone with a spare room — the hotels book up many months (if not a whole year) in advance for this 2 1/2 week festival.
The Oktoberfest takes place on the Theresienwiese, which gives the fest its well-known nickname: the Wies'n.  Traditional dress is the Dirndl (for women) or Lederhosen (for men).  A lot of the people you'll see wearing the traditional clothes are tourists; most Munich-native locals I know don't own any.  Being an expat, I have Lederhosen — in fact I've never been to the Wies'n without them!
If you want to reserve a table, you have to book far in advance, and usually you must pay for a chicken + beer in advance for each person at the table.  But if your group is small enough (2-4 people) just go on down and try to find empty seats at a table.  Just be careful: this doesn't work well on weekends and many evenings, because the tents are often full.  Try in the morning, or early afternoon, if you want to get seats more easily.
A short video of the atmosphere in a kickin' tent: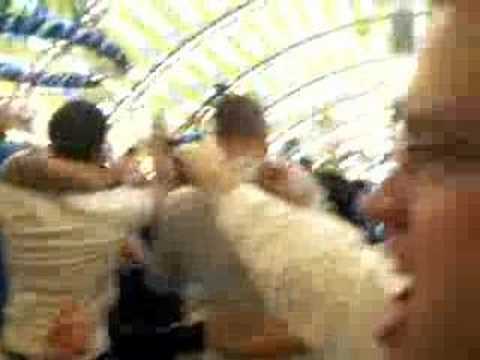 So, you want to know what to eat?  Here are three suggestions.  If you like fish, have one in or outside the Fischer-Vroni tent:
If you're more of a poultry person, try a half chicken.  They roast them about 50 per oven and they are GOOD:
Then there's the traditional meal of large dumplings, red cabbage, and duck:
There are also many other delicacies to recommend: you can try cheese noodles, called Käsespätzle; the lower leg of a pig, called Schweinshaxe (or Hax'n for short); or pan-fried veal, called Wienerschnitzel.  There is not a lot of vegetarian fare — sorry about that, veg's.  Regardless of what you eat, there are plenty of friendly people and lots of this kinda fun:
Words of warning:
Beware of pickpockets.  They make a killing at the Oktoberfest, so keep your money hidden!
The Oktoberfestbier is stronger than normal beer, at 6-7%.  One Maß of it (pronounced across between "mass" and "moss"), or one liter, is equivalent to 4 12-oz US beers.  And you cannot get a smaller size.  Mu-hahaha!
I'll leave you with a final video, where you can see several Dirndls and Lederhosen.  Hope to see you at the Wies'n in 2009!  I'll be there… singin',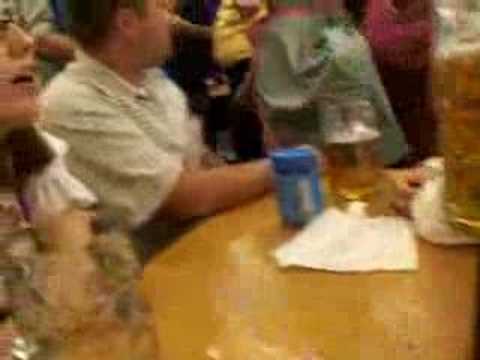 Any questions, just leave a comment! I will answer.
Official site: Oktoberfest.de
Tags: Oktoberfest, Wies'n