Probably only a few people will know what an Alpine Coaster is. I didn't until coworkers took me there by chance one weekend. Picture a giant roller coaster going straight down a mountain. Add cows, and a couple of nets in case you fly off. Take away most of the safety and security you take for granted on a Busch Gardens or Six Flags ride. Finally, add a 1h hike (or a ride up the chairlift) to get to the top… voila, you have an Alpine Coaster!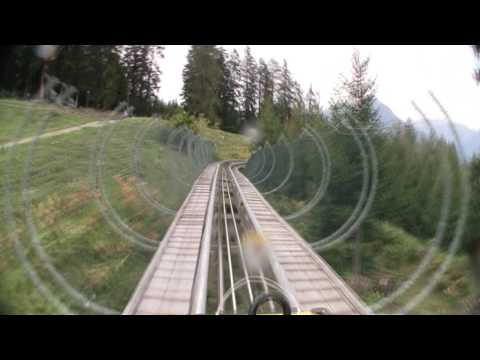 Here's a link to watch the video in HD on YouTube.
This was shot on a Canon HF200 attached to a helmet. Yep, I'm aware the video is a bit jerky. The coaster is a LOT jerky. And optical stabilization is not enough. As yet, I haven't bought a video editing software which will combine the miraculous abilities of a) digital vibration reduction and b) NOT CRASHING. Let's see what I can find in the next month.
Here are some photos on the way to Imst and while hiking up the mountain. I love that about Europe: where else can you see cows grazing on the ski slopes in the summer?  And standing in the middle of windy mountain roads…
Don't miss this gratuitous photo of Bunky being nuzzled by a young cow. Daaaamn, that's hot… if you're a bovine.
Getting to the Imster Achterbahn:
Address for your navigation system: Hoch Imst 19, Imst, Austria.  Google maps link here. If you go in late 2009, a word of warning: Imst has some construction downtown, and we had to go around it to get there (a different exit from the main road).
I recommend checking the opening times first, as they often have weekend-only operation at the beginning or end of the season.  (In German: opening times = Öffnungszeiten).
Prices in 2009: 6.70 to go up the chairlift, 5.90 to come down the coaster (less expensive for kids/seniors, or big groups).
Official website: http://www.imster-bergbahnen.at/index.php?id=6&L=3
Enjoy the coaster, and post your experiences here!  Coming up soon, hiking up the Zugspitze… including scaling the side of a cliff!  Subscribe with the orange RSS and Email links on the left to read about it.  Dave out.
Tags: Alpine Coaster, Alps, family friendly, Helmet Cam, hiking, Video