Lenggries is a fantastic destination near Munich for hiking in the summer, skiing in the winter, and riding the gondola anytime (if you don't fancy sports). The main touristic peak is called Brauneck (1556m), although there are many other hikes in the area. Let me just say: the scenery is fantastic at Lenggries. Rarely is there such a great mix of panoramas and paragliders, even in the Alps!
What I love about Europe is the amazing things you see by coincidence in just one day. I have to split this day into two posts, because we happened upon so many beautiful sights and awesome events. Paragliders, plane flybys, mountain sunsets, moonrise over the trees, and finally a medieval fire show after dark… how could it get any better! Read on to find out more…
The gondola takes you to the Panorama-restaurant near the top of Brauneck, although we hiked there. Service was slow, but the food was fantastic and the views were even better. Here you can see our goal in the distance: Latschenkopf, at 1701m.
Here's a beautiful panorama of paragliders circling on the thermals. I can't count how many layers of mountains one can see from the Panorama-restaurant!
This is one of my favorite fall dishes in Germany: pumpkin cream soup, or Kurbiscremesuppe. They really know how to garnish, too! Lecker… I also recommend Obatzda, a kind of soft cheese you eat with a pretzel.
Just a small hike up from the Panorama-restaurant is the actual peak of Brauneck, where many paragliders launch:
Here's a short YouTube video of a paraglider takeoff: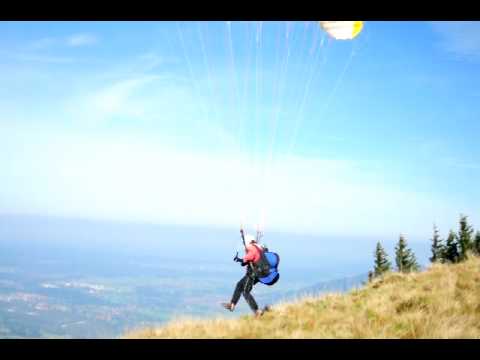 Leaving Brauneck, we headed toward Latschenkopf, and went on a small side path. (photo with polarizing filter)
After a long ridge hike without so much climb, we reached Latschenkopf. Note, there are also opportunities for Klettersteig (rock climbing) along this ridge. Plus an old Junkers (a German manufactured plane) did a flyby of the ridge.
At one point on the way to Latschenkopf, I stopped and took tele photos of all the crosses I could see from where I stood. There were SEVEN. Why this obsession with putting a cross on top of everything? It's quite opposite from the US. Just watched a funny clip on The Colbert Report about a lawsuit in the States regarding a cross that was erected in a National Park as a war memorial. Well, you won't have that kind of BS lawsuit over here in Deutschland.  Here's a (rare) self-portrait:
Now, on the way back we took Panoramaweg. Actually, I do not recommend this if you've parked at the gondola, as we did. After reaching the bottom, we had to walk another 4km (2.5mi) along fields and roads (in the dark) to get back to the car. I don't know the total distance, as unfortunately the maps all list walk times in hours instead of distance in km/mi. BUT I suspect it was about 15-20km total for the day. Up Brauneck, across to Latschenkopf, down long and winding trails on the Panoramaweg, and another few miles back to the car.
Now, there's still more: the nighttime photos! That will be a separate blog post up in a few days. I promise you, the medieval fire-twirling photos (taken with a long exposure on the Nikon D90) will blow you away. If you want to be notified when the post is up, sign up via email or RSS with the orange links on the left sidebar.
Getting there:
Plan your hike here at the Brauneck website (summer hiking list, unfortunately just in German)
Print a summer hiking map here.  We took 9 to Brauneck, 2 and 3 to Latschenkopf, then 3, 4, and 10 down to the bottom.  You can see the long, flat path from Draxlstuberl back to Alte Mulistation — I don't recommend this way!  We walked from 11:15am until 7:30pm with maybe 2-3h of breaks for food + photos.
Park at the Bergbahn lot where the gondola starts: Google maps link
Stop at huts along the way for tasty food and drinks.  I recommend a Radler (half beer, half lemon-lime soda) to keep your hiking strength up without having too much alcohol.  It's not considered wimpy in Germany: Radler is a nice way to get a taste of beer mid-day without too many ill effects.
Eat at the inexpensive and very tasty restaurant, Jägerstüberl (also Jaegerstueberl, hehe).  It's right near the gondola, you'll see it from the large parking lot at the base.  I had a huge steak (12-16 oz) for about €14.
Tags: Alps, family friendly, gondola, hiking, Lenggries