If you are new to this post series, start with Part 1 of the Zugspitze hike.  All the details of how to get there are at the end of Part 1.
The first video saw us up the Stangensteig, passing over the Höllentalklamm, and reaching the Höllentalangerhütte for a nice Schweinsbraten (pork roast) with red cabbage and dumplings. The next morning we started early and reached the first stretch of via ferrata, where we clipped into steel cables and walked on pegs across the cliff. Kind of like this:
And of course there were these pesky ladders,
Then the Höllentalferner glacier itself!
I had skied on glaciers before, but in the winter they look like the rest of the ski slopes.  Never had I seen one in the end of summer, mixed with dirt and rocks, full of deep crevasses.
Enough photos for now, on with what you've all been waiting for: part 2 of the video! There will be at least one more part after this.  And again, thanks to Danny Galixy for the amazing music!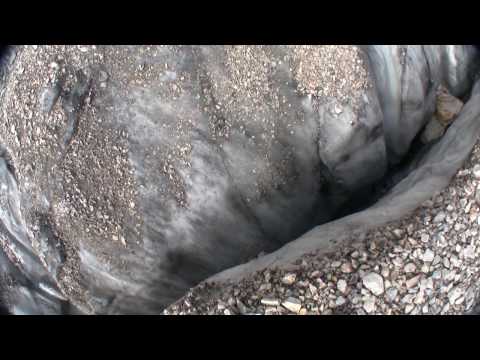 Watch "Climbing Zugspitze: Part 2" in HD on YouTube.
A few more choice photos: Scott and Bunky walking up the glacier, taking in the view…
And a bit later, Scott being nonchalant… I think he clipped in for a total of fifteen minutes during several hours of via ferrata ascent. It must be those expensive mountaineering boots, perhaps they cannot slip.
That's all for today.  The next (and final) post should be up sometime after the weekend.  Summit views and perhaps a bit of the train ride (we ran out of daylight, and our group's acrophobic member wasn't planning to hike down).
Part 3 is now posted! It took a bit longer than originally expected, but I hope it's worth the wait!
Tags: Alps, Canon Vixia, Helmet Cam, hiking, Video, Zugspitze