When two old friends visited for Oktoberfest, we decided to try the Höllental ascent of Zugspitze, the tallest mountain in Germany. Höllental means "Valley of Hell," and conveniently there is a Hütte run by the Deutscher Alpenverein part way up. It's named the Höllentalangerhütte, which literally means "Hell Valley Meadow Lodge." You've gotta love German!
Here's a photo of the Höllentalferner glacier where you can see Zugspitze in the distance. Click on the photo for a full-res version.

Here's a shot of a huge ice chunk we found on the way up the Stangensteig path, just before it rejoined the Höllentalklamm path:
I took my newly assembled Canon Vixia HF200 helmet camera along for the ride, and below you can see an HD video of the experience. This climbing video is just part 1 – there will be two more videos coming in separate posts. Let me know how you like my first attempt at a semi-pro video!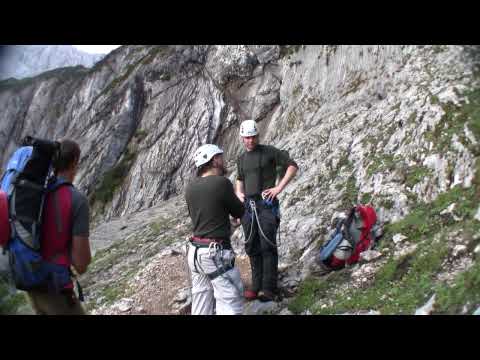 Watch "Climbing Zugspitze: Part 1" in HD on YouTube.
The music in the video is by Danny Galixy, whose music and photographs are fantastic. Check out his website!
Climbing this mountain via the Höllental route requires more mountaineering knowledge than some of the other routes up Zugspitze. You'll need climbing gear including a harness, "via ferrata" equipment, a helmet, and crampons for the stretch along the glacier. A medium length of rope or webbing might also help, as you'll see in the video in part 2. One should only attempt the climb when good weather is forecast; you'll see memorial plaques along the route (many for people killed by lightning).
This climb is not standard rock climbing, but more a combination of bouldering and walking across iron pegs.  "Via ferrata" means "the iron way." On the most dangerous parts, one is always clipped into a steel cable by two carabiners. There is a shock cord in the via ferrata equipment so you won't have a sudden deceleration if you do fall.
Ahem, I also found a bit of toilet humor in the lodge's restroom, and for once the graffiti cracked me up:
Rough translation (sorry, I couldn't rhyme it):
In this toilet lives a ghost,

And everyone who takes too long,

Will be bitten in the balls.

But the ghost did not bite me,

Because I crapped upon his head.
Getting to Zugspitze:
To arrive at the top, you can take the Zugspitzbahn (a Zahnradbahn – geared train), a cable car from Austria, or a cable car from Eibsee in Germany. Link to Zugspitze Roundtrip description
Of course, I recommend to hike the Höllental route if you're in shape, adventurous, and not scared of heights.  Park here in Hammersbach and walk a bit up the road to the trailhead by the river. There are two trails: Höllentalklamm (which goes along the river and costs a few euro), and the longer Stangensteig route (more ups and downs, and is the way we went).
Starting height: 778m. Höllentalangerhütte: 1387m. Zugspitze: 2962m (9,718′). Call the lodge to reserve a place if you plan on staying overnight; it's not expensive even for non-members of the DAV (Deutscher Alpenverein) at 20 euro for adults.
Where to rent equipment: Werner Niedermeier at WN-Alpin speaks English, and it was around 40 euro per person to rent a harness, via ferrata gear, helmet, and crampons. You WILL need crampons for the glacier. DO NOT ATTEMPT without all of this gear! You can also buy a mountaineering map here. The shop is conveniently located in Garmish-Partenkirchen on the way from the Autobahn to Hammersbach.
Since we did not have enough time to safely hike back down before dark, we took the Gletscherbahn gondola and then the Zugspitzbahn down. The train conveniently passes right through Hammersbach, and we had to walk a bit under 1km back to the car from the train station.
Elevation map of the climb: just look at the height profile (graph in lower right side)! If you are afraid of heights, this ascent is not for you.
Here is a link to Part 2 of the Zugspitze adventure! If you'd like to read about Part 3… with more photos & video… subscribe with the orange buttons in the left sidebar. You'll be notified by either email or RSS feed. Thanks!
Tags: Alps, Canon Vixia, Helmet Cam, hiking, Zugspitze