Recently I visited the BMW Museum in Munich. I'd been putting this off because it's a bit pricey at €12 for adults. But as I'm a car lover, I can say I really enjoyed it! There's a lot of motoring and motorsports history tied up in this brand.
Let's start with motorcycle sidecar racing. What the heck is this thing?
I found a short video that explains better than I possibly could with words. Let's just say: the sidecar rider is the master of disaster.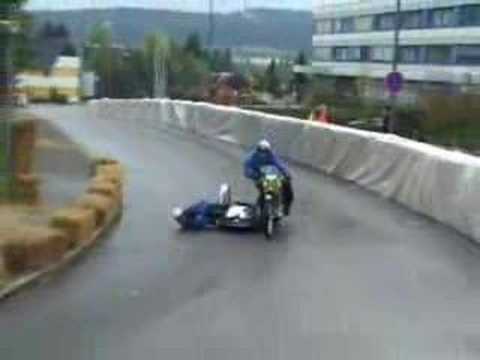 Next up: a beautiful BMW 328. To be more specific, the 1939 328 Mille Miglia.
Here's one of my favorite cars of all time: the Z8, as driven by James Bond. "Moneypenny, would you like to go for a ride?" . . . "Oh, James!"  You can see Pierce Brosnan's previous Bond car in the background: the BMW Z3.
Here's a little number I never saw in the States, though I've actually seen a few of them on the roads in Germany. In active use! See the door handle? That's right… the front of the car, including the windshield, IS the door. And yes, it only has three wheels. But there IS a luggage rack. (if anyone leaves the comment "how cute" I may either buy you one, laugh myself silly, or become ill… I'm not sure which)
This one I have to include, if only because I have this car: the Z3 M Roadster, in Estoril Blue. Mine's from the US, was bought used, and I didn't pay as much as you'd think. But, really? I chose a car that's museum-worthy? Sweet!
This last car was in the special exhibits section, which as of Jan '10 contained concept cars. The skin of the car is made not of metal, but of fabric which moves with the car's wire frame! And the tailors, ahem, engineers did a fantastic job of making this car look alive. I'm not sure what scares me more, the double eyes or the flaring nostrils as it gets ready to accelerate toward me.
Let me say, the lighting in this room was very strange. I actually thought the car was light brown, until checking for more info on this blogpost about the GINA. (which has great pics of the doors opening… you've gotta see it!)
Finally, I'll leave you with a short clip of the very cool engineering art piece / kinetic sculpture at the entrance to the museum.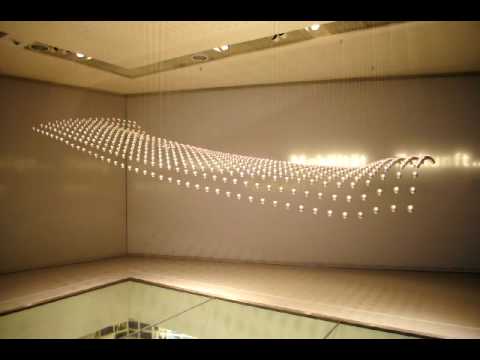 Getting there:
Google maps link to the BMW museum. Get there by car or by U-Bahn (U3 Olympiazentrum).
Admission prices are a bit steep, €12 for adults, though there are discounts (kids, seniors, families, groups of 5+, etc).
Check the BMW Museum website for the latest details.
What else you'll see: F1 cars; rally cars; the M1; many "series" cars; the first BMW car model; lots of motorcycles; rooms full of airplane motors, car motors, and racecar motors; art cars; etc… if this sounds exiting to you, go there. But it's NOT for everyone.
Right next to the museum is the free BMW Welt = BMW World, which is half displays and half showroom. You can always see the latest model BMW cars and motorcycles there.
Tags: BMW Museum, family friendly, Nikon D90